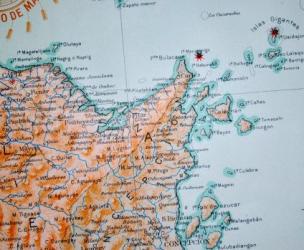 Carles has interesting tales and early accounts of how epic voyages touched the shores of Punta Bolokawe. These journeys brought seafarers, adventurers and plain wanderers to the frontiers and off shores of Punta Bolokawe (from the word "Bolo" a specie from the bamboo family) usually for seasonal fishing activities, refuge and sanctuary from the weather and from the depredation of Muslim Piracy
Toward 1850s, a few families of fishermen, hunters, and stranded traders from shipwrecks established scattered casual settlements along the sandy shores until Francisco Arreola, believed to be the son of a Datu in Jolo founded the Barrio settlement of Bolokawe on October 15, 1846. Succeeding waves of settlers arriving from other towns and province of Panay Island, Barrio Bolokawe was transferred to the flat lowland and was renamed Barrio Badiang (badiang is a plant characterized by large leaves) in view of the fact that badiang plants were abundant in the vicinity of the new site.
Soon the Barrio of Bancal, Dayhagan, Tarong, Cabilao, Cawayan, Tupaz, Kobay, Binuluangan, Granada, San Fernando, Tinigban, and Bitoon were settled one after another.
In search for identity, nine (9) Badiang Leaders headed by Arreola went to Capiz and presented their petition to the provincial government in January 1860. But despite the intercession of Telesforo Alba, brother of Fr. Placido Alba of Capiz, the petition to change the Barrio of Badiang to a municipality or a pueblo was instantly turned down.
The Badianganon petitioners, who out of disgust from the Capiz failure, traveled to Iloilo City, and filed their petition. It was recommended for executive proclamation by the Spanish Governor General in Manila to turn the barrio Badiang to a pueblo.
Exultant with the result of their appeal the Badianganons en masse, expressed their gratitude to Governor Jose Maria Carles by passing a petition to change the name Badiang to Carles. The approval of the new name was followed by its inauguration as new pueblo on July 1, 1862 with Alejandro Buaya as the first Gobernadorcillo del Pueblo de Carles which included for its extended jurisdiction over Balasan, Estancia and Batad.
Pushing the horizons beyond the written history of Carles, archaeological diggings unearthed in the soils of Gigantes Norte and Gigantes Sur showed evidence of the ancient period. Carbon dating done by the National Museum on the artifacts found in the sandy floor of Barangay Asulam dates back to 200BC. The first people who made Carles their home were skillful as eloquently demonstrated in their artifacts, wood coffins and jewelries.